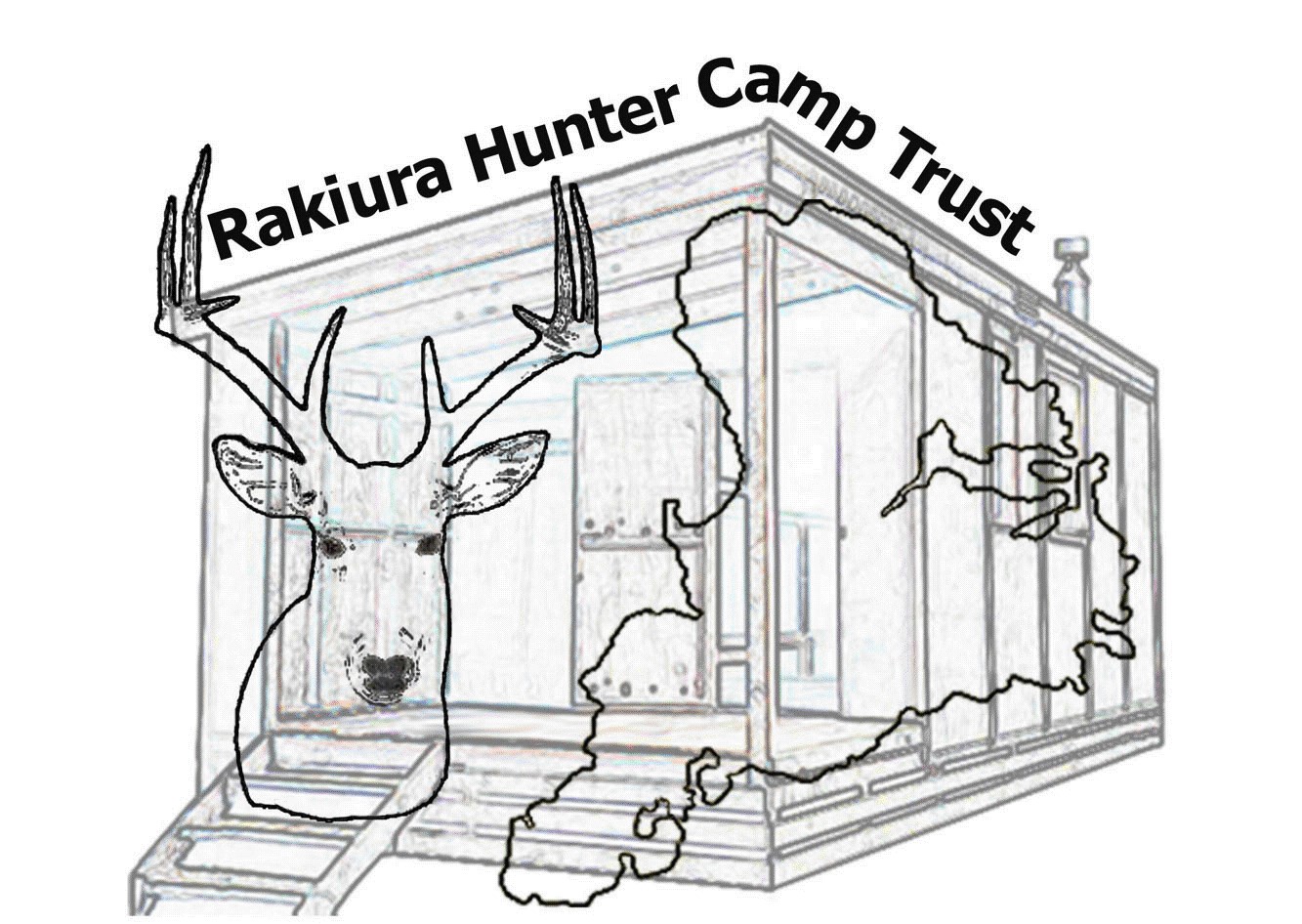 WHAT THE TRUST IS ALL ABOUT.
Stewart Island has always been a popular destination for deerstalkers who hunt whitetail deer.   About  3000 hunters travel to the island each year and the number is increasing annually.  Hunting permits are issued for up to 10 days and the average stay is a little over 7 nights.  Some parties have as many as 12 members and may include, divers, fishermen  and other non hunters.  Camping spots are usually dictated by where boats can get access and considerable pressure can be put on a campsite.  
Over the years DOC and hunters became concerned about this pressure which causes :
Site degradation by debris & inefficient temporary shelters
Rubbish and surplus shelter material left on site
Improvised shelters and forest damage for materials
Lack of sanitation (toilets)
 In  September 1999 a meeting of interested parties was held at Halfmoon Bay and it was resolved that a permanent hut would go a long way to resolve most of the problems.  It was generally agreed the hut would be minimum six bunks with sufficient cooking/living area to accommodate a larger party with an additional tent space being provided. 
DOC agreed to contribute $20,000 over two years to initiate the project and provide logistical and other support.
Charter boat operators agreed to support by donating transport of materials and builders.
Stewart Island Lions Club agreed to supply manpower to build the first two huts at Pegasus.
Three hunting clubs present agreed to provide publicity, fundraising and manpower.
Hunters agreed to a levy of $15 (now $30) per hunter to use hunter huts which are up to standard.  Separate fees apply to DoC huts.
The project would be in stages as funding became available. Rakiura Hunter Camps Charitable Trust was formed to receive funds and hunter donations.
After much discussion the hut size was agreed at 6m x 3.6m. with an additional 2m veranda.   Huts have a colour steel roof, floor and cladding is tantalised ply.  Each has a water tank, Yukon pot belly stove and a stainless steel bench.   A basic pit toilet is supplied at each camp.  Each hut is built to building code and complies with DOC standards.                     
Building on Stewart Island presents its own logistical problems as you can't drive up to the shop if you forget something.
The first two huts were built at Islet Cove and Pegasus Passage by Stewart Island Lions Club in December 2000. Huts have been built at Hapuatuna  and Little Glory (Southland Branch NZDA)  North Big Glory (Central Otago Deerstalking Club) and Abrahams Bay (Taranaki & South Taranaki Branches NZDA)   North Tikotatahi, ( Western Southland & Southland Branches) , Kellys (Gore Branch)  South West Arm,  Homestead and Martins Creek, Upper Lords River, Murray River, Smoky, Christmas Village  Little Hellfire (Southland Branch NZDA)  
The trust also maintains existing hunter's huts at Port Adventure,  and Cavalier.
Rakiura Maori Land Trust agreed to build on some of their campsites.  Our trust members have built six huts on Maori land (Big Kuri, Little Kuri, North Lords, South Lords, and South Tikotatahi & Chew Tobacco.   The Maori owners have paid for materials and the hunters provided the manpower.  To our Trust the issues are the same regardless of land ownership.
The project has received positive support from hunters.   Hunters contributed over $26,000 in 2000 and we received a grant of $30,000 from Community Trust of Southland and $11,000 from Lotteries Commission.   In 2008 we were given another grant of $24,000 from Community Trust of Southland to assist building at Martins Creek & Homestead.
We would also like to acknowledge the positive support of Ian Munro of Foveaux Express for transporting builders and materials to the first nine huts at no charge which saved us several thousand dollars.    The first huts cost $8500 to built in 2000, but by 2008 the cost of identical huts had risen to about $26,000
The Trust currently manages 18 huts for hunters on Stewart Island.  This project has been the result of co-operation between the users & DOC.  
The Trust spends over $1000 annually on rat poison around huts as well as a cat kill trap  and a cage trap at each hut costing over $300.
All members of the Hunter Camp Trust are volunteers. We have only four Trustees.  No-one gets paid for this work!!!  We would like to think that all Island hunters are members of the Trust.
 All we ask is that you treat these huts like your own and look after them.   
There is little to be gained from complaining about issues.  If you see something that needs doing - get it done if you can.  If you can't, please advise us and send a picture if appropriate.
Remove all rubbish,  Don't leave  old chairs, cardboard boxes etc  at huts.  Remove all food.
Think about a little cleaning,  Washing any green verdigris off the hut.  Cleaning the windows - especially the window tracks.  Cleaning the floors.  It is helpful to contact the Trust before your trip to check if anything needs done.