NORTH BIG GLORY
Another group of hunters who supported the Hunter Hut Trust was the Central Otago Deerstalkers Club.  Their original plan was to build a hut at their favorite hunting area of Upper Lords River.  They precut hut was on its way to the Island when DOC pulled the pin as at that time that area was a Nature Reserve and structures were prohibited.  Their build was then diverted to North Big Glory.  The builders were Peter Southee, Pieter Hoppen, Hans Biemond, Ken Leckie, Eric Whipp, John Searle and Bevan Todd.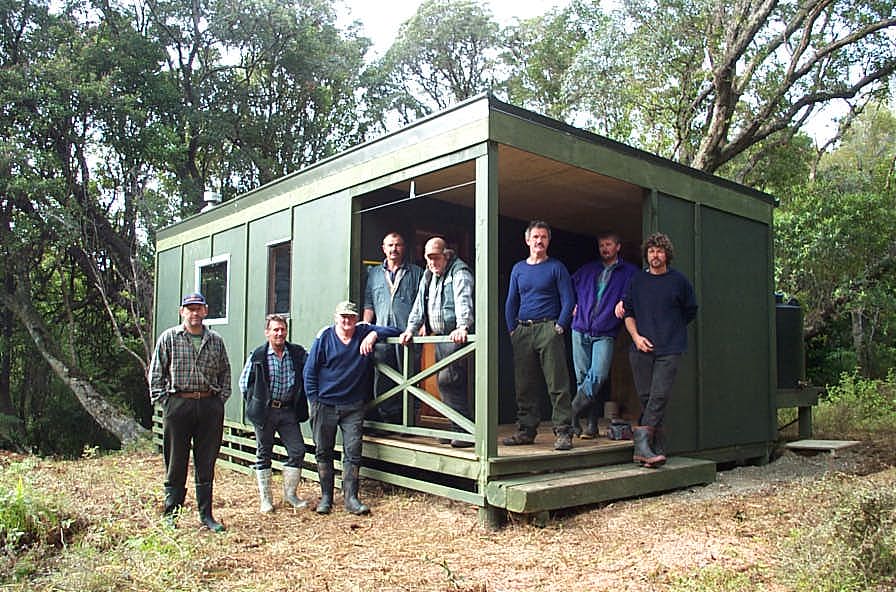 The construction  crew on completion day.
The hut was constructed on a terrace above the beach opposite Bravo Island.   There are large rimu trees in the vicinity (one was taken down in 2019).  Tannin from the rimu leaves that fall on the roof cause a taint in the water.  It is not harmful, just slightly bitter.  Hut users should clear the spouting and flush the tank in periods of heavy rain.
There are tentsites near the hut and there is another just above the beach which tends to be damp in wet weather.
Access.  Transport either by Charter boat from Bluff or Halfmoon Bay  or for smaller parties it can be economical to travel to the Bay by Stewart Island Ferry Service and hire a water taxi. Generally there are no problems with access to the hut although at low tide it can a longer carry across the mudflats.